About us
Since 2001, and thus for more than 15 years, we have been supporting Indian companies in entering the Bavarian market. We are also actively disseminating information in India about Bavaria as a business location, Bavaria's strong sectors and trends, as well as offering free information and assistance for investors from Invest in Bavaria. At the same time, the representative office of Bavaria in Bangalore also accompanies Bavarian companies in their expansion plans in India and in networking with local business partners.
Do you intend to expand into Germany/Bavaria? Or are you looking for contacts for your entry into the Indian market? Then contact John Kottayil, State of Bavaria India Office, Prestige Meridian 2, 12th floor, Unit 1201 30, MG Road Bangalore – 560001, India.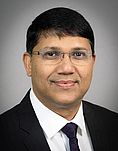 We support Indian companies with their international expansion plans and market entry in Bavaria related questions. Our Office serves as well as on-site contact point for Bavarian companies interested in the Indian market. We thus foster the economic and political cooperation between Bavaria and India.
John Kottayil
Executive Director, State of Bavaria - India Office